Goal 5: Engage Locally and Globally
Since the implementation of our strategic plan, the world has changed — and our reach has expanded to match. We've become even more locally responsive to the needs of our community and state, all while engaging the grand challenges facing the international community. Find out how far we've come.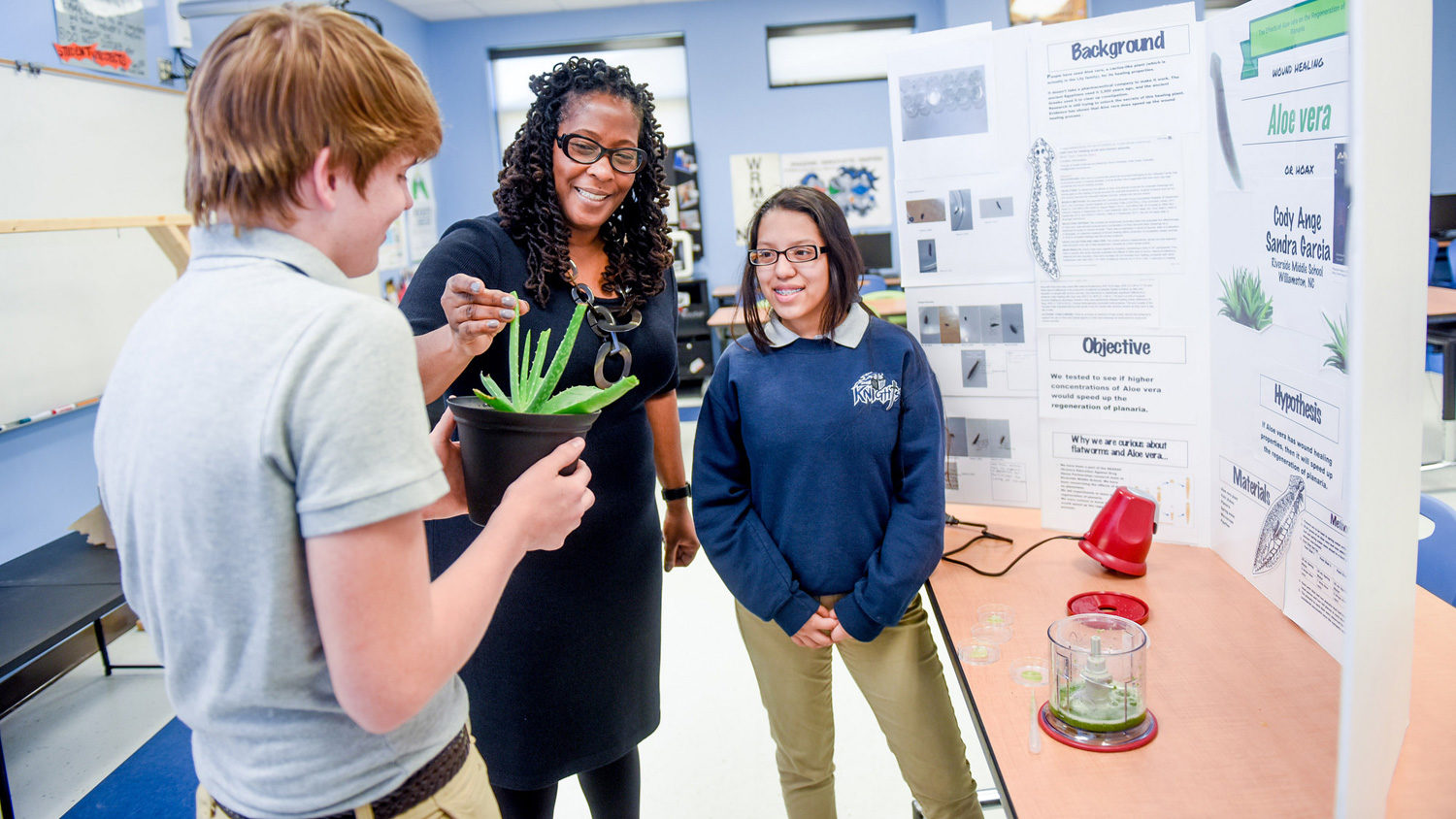 A Worldwide Wolfpack
We've made strategic changes to build new global partnerships for the benefit and expansion of academics, research and entrepreneurship at NC State. Last summer, the Office of International Affairs became the Office of Global Engagement to better position NC State for increased global interaction and collaboration. Paralleling this change, the Prague Institute became the NC State European Center in Prague, reflecting the facility's position as the university's gateway to Europe. NC State Prague will give faculty and staff new teaching and research opportunities while increasing study-abroad participation among NC State students.
NC State's engagement in the Generation Study Abroad initiative aims for a 50 percent increase in study-abroad participation among the overall student population and among underrepresented minority students. With the addition of advising initiatives focused on inclusion, NC State is working to diversify the number of students who participate in international activities both on campus and abroad. Participation in global affairs continues to flourish through the addition of new global partners and the promotion of partnerships through the Global Partners database. Each instance of local and global engagement strengthens NC State's reputation as an international academic and entrepreneurship powerhouse.
Committed to Increasing Study-Abroad Participation by 50 Percent by 2019
An Economic Engine
NC State supports budding entrepreneurs and brand-new companies to help local, regional and national economies succeed. NC State Entrepreneurship is the front door to our entrepreneurship-related programs and activities. The Wolfpack Investor Network connects alumni investors with NC State startups to promote angel investments. We're reaching beyond campus walls with local workforce development boards, which connect skilled employees with the right employers. We're also implementing development strategies that bring businesses, jobs and economic empowerment to rural and developed regions of the state. Our faculty, staff and alumni have played instrumental roles in bringing international companies to the Triangle and beyond. These initiatives help add $6.5 billion in annual income to the North Carolina economy, according to a 2015 economic impact study of the University of North Carolina system. At NC State, we don't just put dollars into the economy — we drive the engine that makes the state thrive.
Connected Community
Our Think and Do spirit provides education and opportunity to citizens across North Carolina. Recent efforts include the Office of Outreach and Engagement's community partnerships in Rutherford and Polk counties, as well as the Southeast Equine Research and Education Partnership, a partnership with Isothermal Community College. The College of Education's Northeast Leadership Academy develops high-quality administrators for rural, high-need, hard-to-staff schools in northeastern North Carolina. The College of Design's Department of Landscape Architecture and School of Architecture, along with the College of Agriculture and Life Sciences' Department of Agricultural and Resource Economics, facilitated a workshop on how the city of Princeville could recover from the devastating effects of Hurricane Matthew. Additionally, the McKimmon Center for Extension and Continuing Education's Collaborative in Rocky Mount provides university opportunities and access to students, adults and clients in northeastern North Carolina. We're enriching communities and improving lives by connecting knowledge with action, from the mountains to the coast.
1,110+

Students Participated in Co-Ops Last Year
#5

in the Nation for Startups
#2

in Commercialization Agreements